Temporary websites solve a lot of problems.
Many services offer one-page temporary websites.
Tiiny.host supports both single and multipage temporary websites for free.
This is a game-changer.
You can now create and share a static multipage website for free, including text, images, logos, links, HTML, CSS, JavaScript—the whole works.
It's a perfect way to share your website prototypes and demos for free.
It's also a great resource to get feedback on any ongoing project.
You can host single files, turning them into instant temporary websites. File-types supported include PDFs, text documents, images, presentations—any file that can be hosted online.
And it's simple to do.

Once you experience how handy it is to have a temporary website, you'll use them often.
As I take you through this process, remember that you needn't develop an entire website to temporarily share a file or site. The process is much simpler than that.
Sometimes, you just need to share your progress on a project with others quickly. It may be an entire website or a section. Or maybe a notification of some sort. You may need to post your prototype, portfolio, résumé, or demo.
All that's required is to upload your project to Tiiny.host and BOOM! You have an instant website complete with domain name, SSL, editing capabilities, security, and speed. Not bad for free.
A temporary website may be the best way to share your message. Whatever you need to have others look at, it's easily accomplished.
Let's see how it all works.
What is Tiiny.host?
Tiiny.host is a simple, fast, and no-fuss hosting service for temporary or long-term static web projects.
How do I host a temporary website?
Here's how to take advantage of Tiiny.host's free temporary hosting.
Once you visit our homepage, you are three simple steps from your project being live on the web.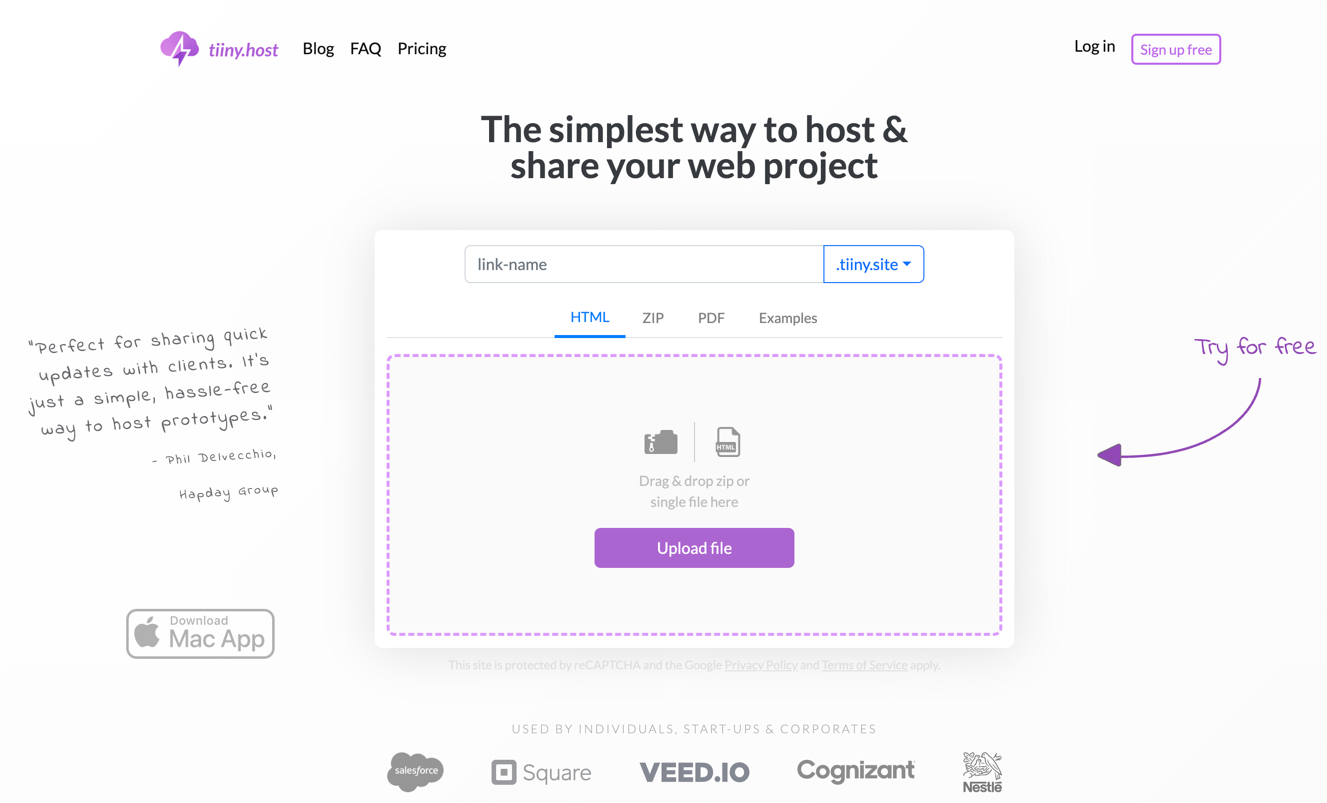 Enter the link-name for your site.
Choose HTML, then drag and drop or upload your zipped website file.
Click the big purple "Upload file" button. Sign in or register for a free account.
That's it!
In moments, your website is live.
BOOM!
What do I get for free?
Tiiny.host's generous free tier includes:
Host one site at a time
Upload files of 3 MB
Tiiny.host branding
SSL certificate
Unique tiiny.site URL
QR code for sharing your website
Fast infrastructure
Built-in security
Awesome customer support
What are Tiiny.host's advanced features?
If one temporary (or long-term) website isn't enough, Tiiny.host has got you covered with low-cost monthly subscriptions. Several advanced, professional features come with our paid subscriptions.
Solo tier
The Solo tier is designed for solopreneurs and small businesses. It is an inexpensive way to share projects with clients or potential customers without needing to create a whole website on your own.
In addition to removing the Tiiny.host branding, you get:
Hosting for up to five sites
75 MB file uploads
Custom domain names
Built-in analytics
Password protection
Fast global CDN
File and web template editor
Integrations
Pro tier
All the features of the Solo tier are enhanced in the Pro tier by adding team members to your account for effective collaboration. Plus, upload files of up to 1 GB. You can host up to 12 active sites.
Pricing
Visit https://tiiny.host/pricing for the affordable current rates.
How to prepare your temporary website for uploading
Tiiny.host is a static web hosting service. "Static" means the websites are created with HTML, CSS, and JavaScript. Static websites are faster, more secure, and less expensive than dynamic sites like WordPress.
RECOMMENDED ARTICLE: A Guide to Static Websites
Prepare your temporary website
All your website files must be enclosed in one folder.
The home page HTML file must have the name "index.html" or the automated hosting process won't work. "index.html" is the web standard for naming your home page HTML file.
The file structure of your uploaded zip file should look like this:
Folder: WEBSITE
— index.html
— additional_pages.html
— style.css
— scripts.js
— FOLDER: assets
— — images, logos, etc.
Those of you familiar with web hosting will understand this structure and can modify it as you see fit.
If you're confused about any of this, contact tiiny.host/help and ask our awesome customer service people for assistance. We can be reached by chat or email.
When your website folder is ready
Compress the WEBSITE folder as a zip file.
Upload it to Tiiny.host.
That's all it takes.
RECOMMENDED ARTICLE: How to zip a file on Mac
Sharing your new temporary website
After your website is uploaded and live, you can share it with a link, a QR code, or both.
You can always access the link and QR code from your Tiiny.host dashboard.
Share the link and QR code on your social media platforms, in email, and wherever you wish to spread the news about your new temporary website.
Remember, you can make the website permanent and get advanced professional features with a Solo, or Pro subscription.
Next steps
Again, I urge you to contact tiiny.host/help if you have any questions or comments. There is no obligation whatsoever.
Let us know how we can assist you with temporary websites, web hosting, or any issues this article raises.
Your success is important to us. Give Tiiny.host a try. It's free!
FAQ: How to Create a Temporary Website with Tiiny.host
What is Tiiny.host?
Tiiny.host is an online platform designed for users to quickly and effortlessly host static websites on a temporary or long-term basis. It's especially useful for showcasing prototypes, drafts, or short-term projects.
How long will my website stay live on Tiiny.host?
A website hosted on Tiiny.host's free tier is typically live for as long as you need it. Afterwards, the website and its files can be archived or deleted.
Are there any size restrictions for uploading files to Tiiny.host?
Yes, the free tier of Tiiny.host—in fact, every tier— has a file size limit for uploads. If your website files exceed this limit, you might need to compress them or consider Tiiny.host's premium options. Visit Tiiny.host/pricing to see limits and rates for free and premium tiers.