You know, flat-file Content Management Systems (CMS) are increasingly popular, but only among those who want speed, security, and cost-effectiveness. Does this include you?
I'll take you through a whirlwind introduction, then get down to my list of the nine best flat-file CMSs available now.
Shall we begin? Let's go.
What is a flat-file CMS?
Flat-file CMSs are databases without the database. Huh?
Well, instead of the baggage associated with standard relational databases, a flat-file CMS is simple and lean. Data is stored in text files, sometimes specially formatted in XML or JSON.
RELATED ARTICLE: What is a flat-file CMS?
In short, flat-file CMS features include:
Simple and effective installation, editing, and management.
No relational database complexity, issues, or problems.
Inherently high security.
Fast, lightweight, and easy-to-use user interfaces.
A wide range of themes and plugins.
There are a couple of drawbacks
They may not be as scalable to large sites as a relational database provides.
Some interactivity is lost due to the file structures. But many informational and seldom-changed websites are great candidates for flat-file, static installations.
Sometimes these sites require more technical skills than something like WordPress, but not always.
Shop carefully.
To host your web project try tiiny.host
- the simplest way to host your project on the web. Just drag & drop your static files to upload it online.
Grav is an open-source, flat file CMS that's built on PHP, a tried-and-true scripting language. One of Grav's notable features is just how many features it has. This can be good or overwhelming, based on your technical skills. Know that if you need it, Grav probably has it. If it doesn't, it has its own package manager to add more extensions and functionality. Grav is highly regarded in the flat file CMS world.
Grav has free and premium tiers.
The Kirby flat file CMS is designed for developers, designers, and content creators. It's built on PHP, with a Vue user interface. Kirby uses a familiar folder and files interface making it intuitive for non-techies to use. It is strong on security and comes with built-in protection against common web vulnerabilities. You can choose between configurations—headless or not. Kirby appeals to clients and agencies.
Kirby prices start at $105 per website, with a free trial.
Built on Laravel, Statamic says it is built for developers and designers first. Their documentation is extensive and created with developers in mind. The interface is much like WordPress. Writers' and publishers' needs are fully supported. You can change the configuration from full stack to headless. Statamic is a well-designed system focusing on original, bespoke website creation.
Statamic has free, Pro, and Enterprise pricing tiers.
Calling itself "stupidly simple and blazing fast," flat file CMS Pico wants to make the web easy. It is a lightweight, markdown-based system that has a Twig templating function. This CMS is a bit more technically oriented than some others, but the right developer can make it sing.
Pico is free and open source.
Jekyll is a static site generator that's built on Ruby. While it's not technically a CMS, it's still worth mentioning because it's a popular choice for creating flat-file websites and blogs. Jekyll is simple to use, highly customizable, and it's designed to be fast and secure.
RELATED ARTICLE: Jekyll hosting—the search for speed, security, and low cost.
Jekyll is free and open source. And you can host it on Tiiny Host!
Bludit is a flat-file CMS that's built on PHP. The user interface is somewhat similar to WordPress. Bludit is designed to be lightweight and easy to use. While it supports using Markdown and HTML to write your content, Bludit uses JSON to store its data. Themes, plugins, and built-in SEO support make this a full-featured but speedy CMS.
Bludit is free, Bludit Pro requires a Patreon donation.
GetSimple CMS is a flat-file CMS that's designed for small to medium-sized websites and blogs. It's built on PHP. The GetSimple homepage boasts that it is "GPL, open source, and downloaded over 120,000 times." It focuses heavily on being easy to use. GetSimple is highly customizable. With a short 5-minute setup and the ability to have multiple users, this system is great for many uses.
GetSimple CMS is free and open source. Donations welcome.
Monstra is another GPL, open-source, lightweight, flat-file CMS that is relatively new on the scene. The data is stored in XML files. Multiuser and SEO friendly, Monstra is flexible and secure. Installation takes only a few minutes. A great feature is frontend optimization built in. Minification and the combining of CSS and JS files make HTTP roundtrips minimal. Monstra is free of charge, although a donation is welcome.
Monstra is free and open source. Donations are welcome.
One-step install WonderCMS aims to make simple websites, landing pages, and blogs. It claims to be the smallest flat-file CMS, with only five files for the entire application. Open source and built with PHP. The file format is JSON.
WonderCMS is free and open source. Buy a T-shirt or donate if you wish.
How do I host my web project?
Visit Tiiny.host for fast, secure, and easy hosting of your web projects.
Once you visit the homepage at Tiiny.host, you are three simple steps away from being live on the web.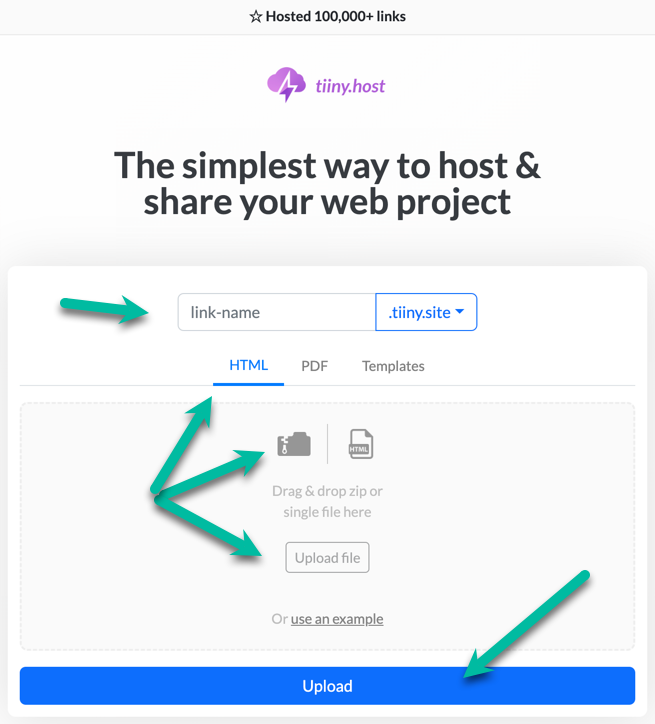 Enter the link-name for your site.
Choose HTML, then drag and drop or upload your zipped website file.
Click the big blue "Upload" button.
That's it!
Next steps
Tiiny.host offers everything you need for sharing a professional or personal website on the internet.
Tiiny.host's customer service is awesome! Contact them directly at Tiiny.host/help and see. They'll answer your questions about their services, help you out with any problems, and explain any issues raised by this article.