Analytics are incredibly important and have consistently ranked as our most requested feature. So we're ecstatic to announce that we've implemented "Automagic Analytics" for Tiiny Host customers!
What Are Analytics?
Web analytics are the collection and subsequent reporting of user data for your web pages. You can then use this data to compose a holistic picture of your users, enhancing your understanding of their wants and needs.
Why Do I Need Analytics?
"Knowledge is power" and you can't improve what you don't measure. People are confusing and complicated and their behaviour is erratic and messy. In fact, user behaviour is a little like a puzzle, one that you're essentially trying to solve blindfolded without analytics.
Collecting data allows you to optimise your content based on your audience feedback and therefore drive a greater return on your time investment. This ultimately means more eyes on your content and a greater conversion rate.
What Analytics Does Tiiny Host Collect?
Collecting data is only half the equation, the real focus should be on what data to collect and how to analyse it once you have it. Not all data is created equal and it was extremely important to us that we not only democratise analytics but that we focus on those metrics that deliver the most value. We therefore distilled the metrics most requested by users down to the ones most closely aligned with performance indicators.
You can now effortlessly track and analyse the following metrics for all your content:
Pageviews - The total number of times your pages were loaded by your visitors.
Visitors - The number of people who visited your site.
Average session duration - The amount of time visitors spend on your site.
Traffic source - See all referral sources that are sending you traffic. A source is reported when a person clicks through to your site from another site.
Traffic regions - countries of origin for visitors to your site.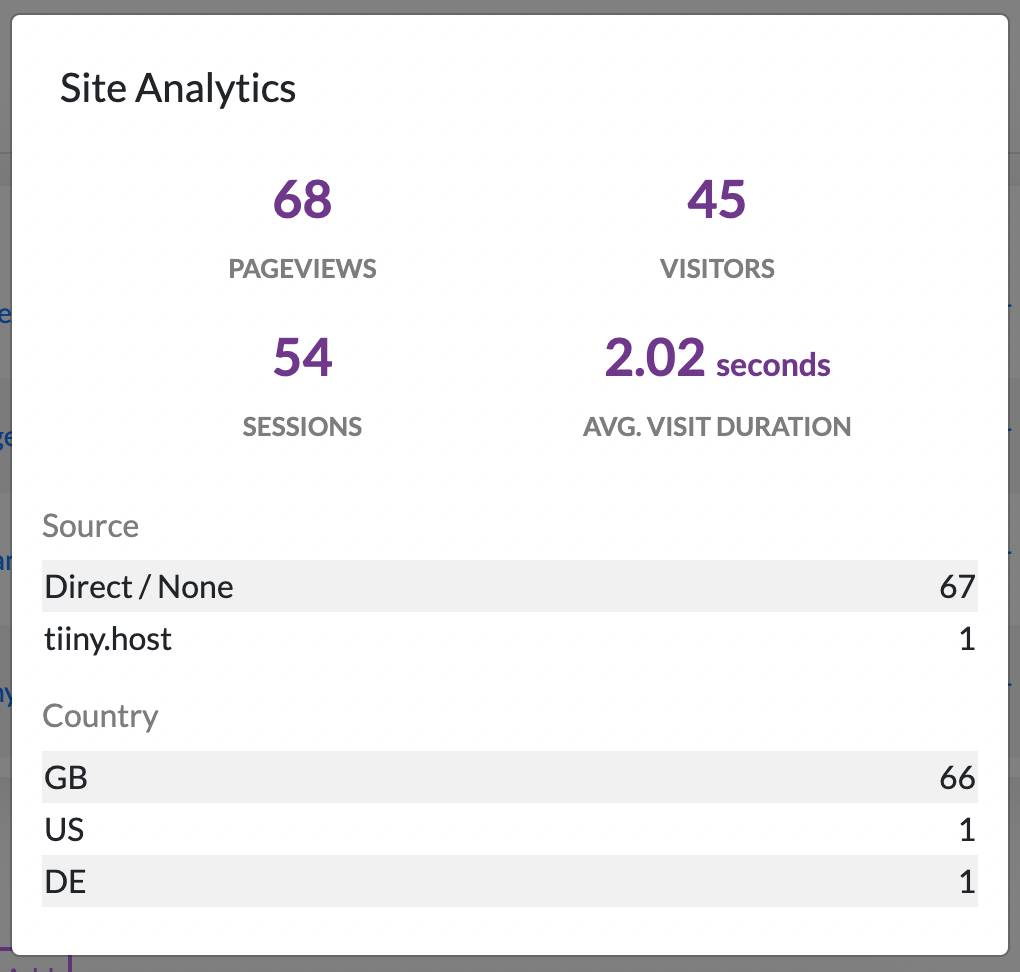 Missing any analytics you think we should show? Just send us a message - we're looking for feedback.
How do I set up analytics?
Setting up analytics for your site is usually an absolute nightmare. Tiiny Host was determined to eradicate the tedium of multiple APIs and there's absolutely no set up for Automagic analytics. Just sign up to one of our subscription plans and any content you upload will automatically have analytics installed and be tracking from the moment it goes live.
You can access all of these metrics from your Tiiny Host dashboard!
Step 1:
Click on the bar chart next to your live site under "My Sites" in the dashboard.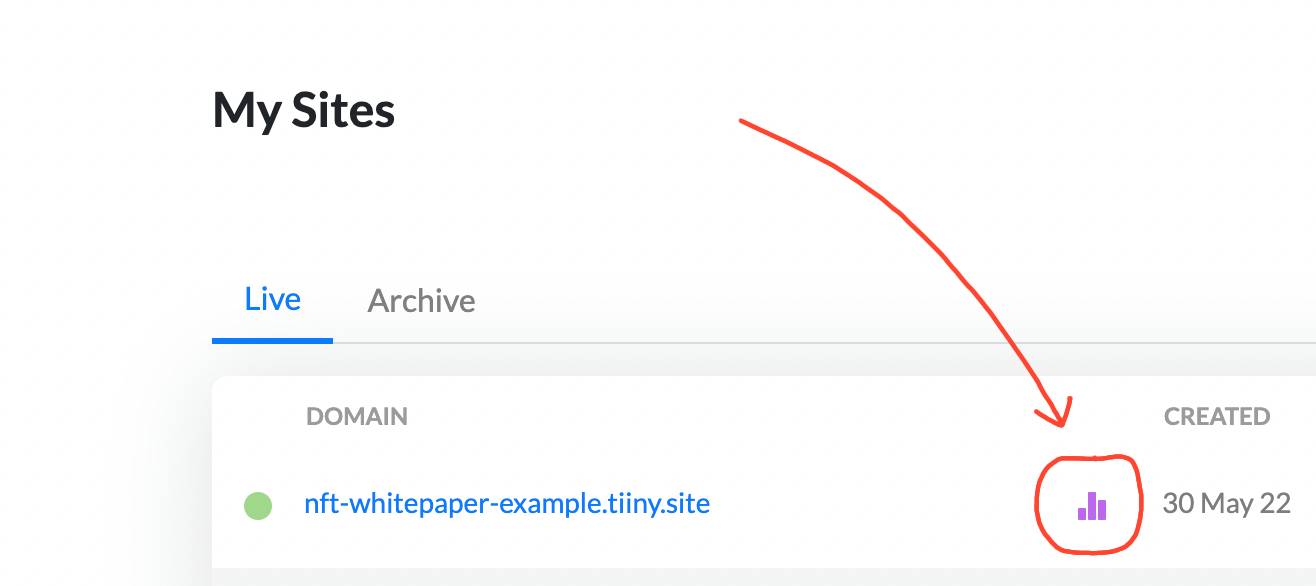 The "Site Analytics" pop-up will display the analytics for that site.
Are the analytics GDPR compliant?
Absolutely. It's extremely important to us that all tracked data is recorded in a GDPR compliant form.