On your computer, you have an important PDF file with crucial information. You need to share it with co-workers and management both inside and outside your company.
Your PDF must also be protected from prying eyes that might steal or misuse your proprietary data. But you don't have access to the expensive Adobe Acrobat Pro software that created the PDF in the first place. You must share and password-protect a PDF file without Adobe.
What's the problem?
You need to share the PDF immediately without using Adobe.
There's little budget to spend.
Security and full web access are both essential.
The problem is in three parts—protecting the PDF, sharing it globally, and keeping costs down.
A single solution that solves all three parts of the problem would be ideal.
Password-protecting your PDF file without using Adobe is necessary for your situation. That's a given, especially based on the price of Adobe Acrobat Pro. Buying a subscription at that price is overkill and budget-breaking.
Other PDF online services and apps also charge for password-protecting a PDF file, either directly or indirectly. This is hard to avoid, and fees vary widely.
If you have access to file-sharing services such as Dropbox, OneDrive, Box, etc., you can share the PDF file online through them. But this doesn't password-protect the file. Protecting the file requires several more steps, if it's possible at all. These services also have hefty membership subscriptions. These paid subscriptions are required to use the features you need. Again, overkill.
There must be a cheaper, simpler way to share and protect your PDF file.
Well, there is a solution.
Share and Protect your PDF file with Tiiny.host

Tiiny.host is the simplest way to host and share any of your web projects online. PDF sharing and security are baked-in to Tiiny.host's Solo and Pro accounts.

There is a free 7-day level on Tiiny.host where you can share a PDF file or other web project for a week for free. However, this level does not password-protect your file. Again, password protection is almost universally a paid feature.
How does Tiiny.host's cost compare to Adobe Acrobat Pro?

At the time of this writing, Adobe Acrobat Pro costs almost $30 per month.

Tiiny.host's $18 Solo account clearly costs only a fraction of Acrobat's subscription rate.

The Solo level allows you to host up to five files or web projects, password-protect each one individually, and provides visitor statistics on who has seen your file. You can even add custom domains if you wish, but this is optional. Tiiny.host includes a standardized yet custom domain name for each project in your account.
How does Tiiny.host password-protected sharing work?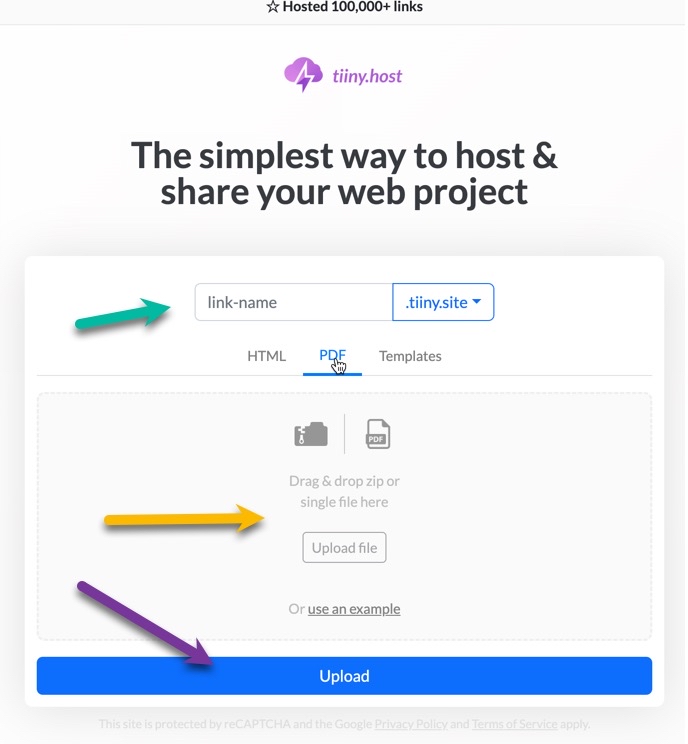 Once you visit Tiiny.host's home page, you'll see the simple three-step posting process.
Provide the name you wish to use for the web address of your PDF file.
Drag & drop or click to upload your unprotected PDF file. All your files are secure online at Tiiny.host.
Click the big, blue "Upload" button.
That's all there is to it.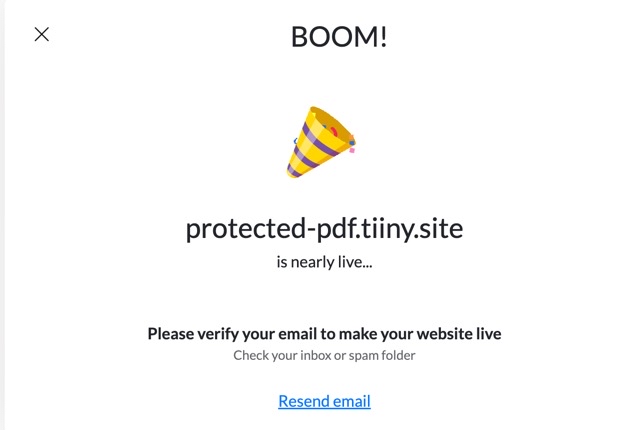 Follow the directions provided in the email sent to you. This quick process will register you with Tiiny.host for free and start your 7-day free hosting.
It will be necessary now to upgrade your free account to enable password protection. You can choose the least expensive Solo plan.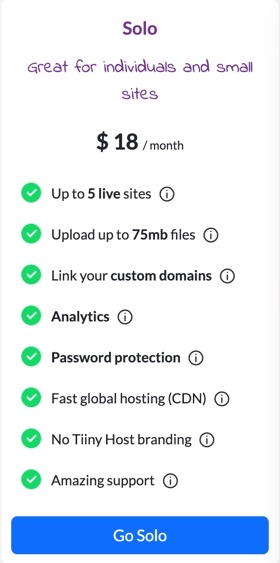 It is even less expensive if you subscribe for a year. Annual Solo subscriptions cost $13 per month.
How do I password-protect my PDF file?

Once you've upgraded to your paid account, you will see the Tiiny.host dashboard.

Click the "Update" action as shown below. Have your PDF ready to re-upload.

The Update action screen appears.
The URL for your tiiny.site is filled in for you.
Upload your PDF again, or a different PDF if you've changed your file.
Click the "Password protect" toggle to proceed.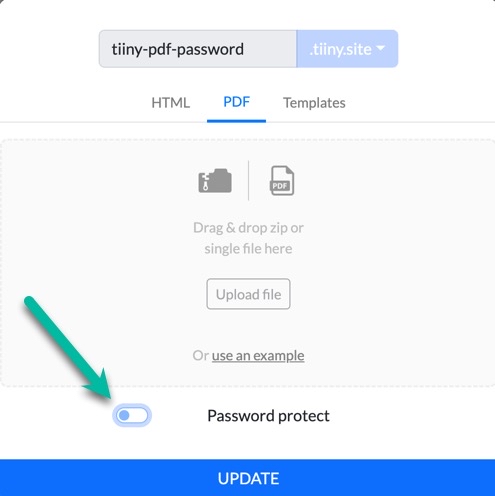 The Username field is filled in. In this case, you must share the username "access" with whoever will receive the password.
Enter the secure password you will share to open the file. Remember this password. It cannot be supplied again by Tiiny.host.
Click the UPDATE button.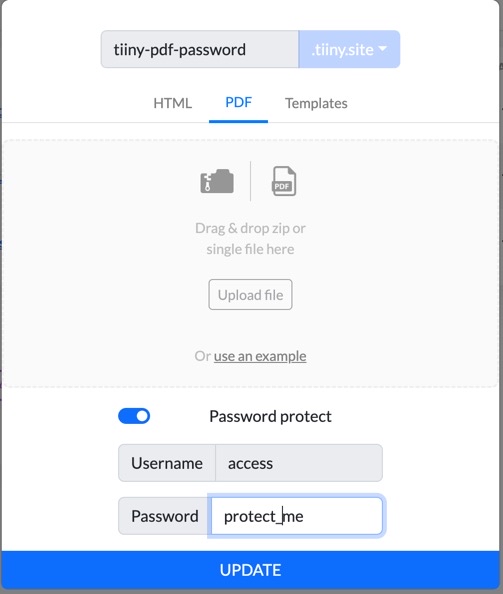 There will be a moment of processing…

And that's it!
Your password-protected PDF is live on the web!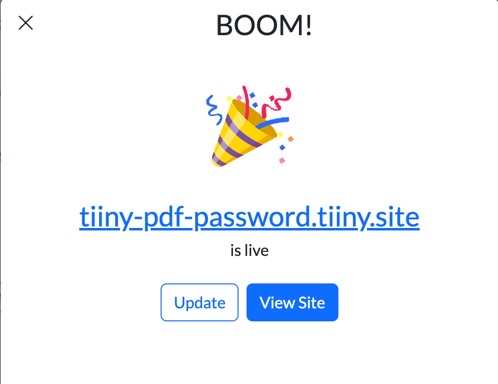 How do I spread the word about my PDF site?

The information your audience needs to access your file is:
The web address of your site: link-name.tiiny.site
The Username: 'access'
The password: '<my_secure!_password>'
Use your app of choice to contact the people with which you want to share your file. With the above information they can access your site's PDF file.
This dialog box will appear in the browser window once they arrive at link-name.tiiny.site:
Once the correct username and password are entered, they can sign in. From this point on, they will have access to the password-protected PDF file. The username and password must be entered each time the webpage is accessed.
Final Thoughts

What was once a three-part problem is now easily and inexpensively solved, all without needing an expensive Adobe subscription.
Your PDF file is live on the web.
Access to your PDF file is protected by the secure password that you set.
You can upload up to four more PDFs or web projects with your Solo account.
Remember also that you can view your visitors' statistics by visiting the Tiiny.host dashboard and clicking on the View analytics icon:

How do I get support from Tiiny.host?

Customer support at Tiiny.host is awesome!

Visit tiiny.host/help to contact them by chat or email. Ask your questions or have them provide help for any issues you experience. The customer support team will answer quickly. They're good at this.